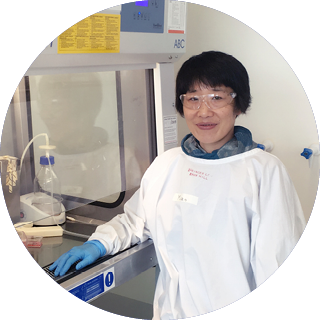 Breast Cancer
University of Melbourne
Apart from proper scientific training, a successful cancer researcher must have an appreciation of the ultimate purpose of their work, which is to help people and improve their lives. That's the firm belief – and primary motivation – of Dr Yuan Cao, a researcher at the Victorian Comprehensive Cancer Centre at the University of Melbourne.
"I understand and empathise with the anxiety, stress and sorrow the disease can cause," explains Yuan, 43. "My grandma died from bladder cancer when I was a teenager; I decided then that I wanted to be a researcher so I could understand and develop better drugs to treat it."
More recently, relatives' and friends' families have been similarly affected. Yuan received further motivation at a conference during a chat with Dian Corneliussen-James, a stage-four breast cancer survivor. Dian said she and other patients had been provided with hope and encouragement by researchers like Yuan. "I was deeply touched by Dian's comments and felt proud of what I was doing," says Yuan. "It made me realise it's my responsibility to work hard at my research."
Inhibiting a Key Protein to Control Breast Cancer
"These efforts are mainly focused on finding a new therapy to prevent or control the spread of breast cancer, which remains a major cause of cancer-related death, with around 30% of patients ultimately dying due to metastasis, including some who are diagnosed at an early stage. Once metastatic disease is established, very few curative treatments are available", says Yuan.
Like much other work in the field Yuan's research is aimed at using the body's immune system to halt this progression. In particular, it aims to investigate a recently identified protein target known as MMP12, which is present in tumours and acts on immune cells to divert their proper responses.
"I aim to determine the feasibility of using a protein inhibitor to promote the immune response against cancer, using the body's natural defence system. This would open the door to the therapeutic use of MMP12 inhibitors."
Yuan already has exciting preliminary data suggesting a potential treatment. If her hypothesis is proven, the spread of breast cancer to organs may be prevented or controlled and it would therefore no longer be a life-threatening disease in humans.
The support from the Can Too Foundation will enable Yuan to continue investigating this potentially thrilling scenario, and successful completion will lead to further funding for clinical trials. "The chance to work on my own research project is the first step towards becoming independent – helping me fulfil my ambitions!"
Born in Shanghai, Yuan completed a degree in computer science before moving to Victoria in 2004 to study biological and medical sciences at Deakin University. Yuan received high distinctions in her undergraduate studies and later became a PhD candidate at Melbourne University in the metastasis research lab at the PeterMac centre. Now Yuan is working as a postdoctoral fellow in the Molecular Mechanisms of Tumour Progression lab in the Pathology Department.
Yuan extends grateful thanks to donors and fundraisers from the Can Too Foundation, and urges patients to remain positive and maintain hope. "[Know that] there are many researchers like me who dedicate themselves to fighting this disease," she says.
An enthusiastic resident of Melbourne, Yuan enjoys the city's sea, landscape and friendly people and spends much spare time with friends, reading or painting, though she confesses she's "not very good" at the latter.
Dr Yuan Cao was a 2017 Cure Cancer Australia grant recipient supported by the Can Too Foundation.