"I Can Too because of how it makes me feel," says Can Too veteran Paul Jeffress (pictured above centre back row) who manages to live very well with diagnosed depression and anxiety.
Paul is about to undertake his 13th program for the Foundation and take on the Team Captain role for the fourth time. He participates in ocean swims, half marathons and trail runs.
The amateur athlete and professional Systems Engineer explained that Can Too provides pillars for his mental wellbeing.
As it's Mental Health Month and this year's theme is Share the Journey. Paul shares his experience with mental health with us to show how his mental wellbeing thrives with Can Too.
"I had depression and anxiety for a long time, but I didn't know it. I always felt so much better after exercise, I get a good buzz out of it and feel a lot better mentally too" says Paul.
He was diagnosed with depression and anxiety about seven years ago, since then the connection between exercise and good mental health became more important.
Physical activity can help people with mild depression and evidence shows it can also help protect people against anxiety, according to the UK's National Health Service.
Physical activity is thought to cause chemical changes in the brain, which can help to positively change our mood. Some scientists think being active can improve wellbeing because it also brings about a sense of greater self-esteem, self-control, and the ability to rise to a challenge.
Paul explained that it's the well-known effects of endorphins from exercise, 'that's been proven medically to benefit mental health', coupled with the social side of Can Too that really helps him.
"It's the group connection, the social buzz as much as the exercise, it's the chat that lifts you up and hanging out with people sharing a common interest.
"Everyone's happy and you're outside, it's the whole ride, it's almost a downer when I finish a program."
Being accountable to the group ensures that he commits to the one night a week and weekend morning training sessions.
"I'm an introverted person, so I'm not as likely to seek out people, so to regularly turn up for the Can Too program to get that nice social buzz and interaction, it's what keeps me coming back. I've done more than 10 programs. I absolutely love it."
To give something back to Can Too by being the Team Captain for the Northern Beaches pod for the summer swim program is another positive.
"To help people who can't swim or run confidently, or they couldn't at the start of the program, is an awesome feeling."
My first steps towards Can Too
Paul made a pact with two of his friends over some wine in the Hunter Valley to run a marathon. Sadly, it was not to be as his friend passed away from cancer before they completed the challenge.
"I'd started training and I'd previously completed a couple of half marathons and City to Surfs so I was looking for an organised exercise program that I could commit to and then I meet some inspiring Can Tooers at a wake.
"Being close to someone who passed away from cancer was a strong drive, it feels good to do something about the problem.
The avid swimmer and runner says that in every Can Too program he's found a great group of people.
"They're caring, open and supportive, there's no arrogance."
Paul also credits his family, Beyond Blue, his doctor and workplace for steering him on the path to good mental health.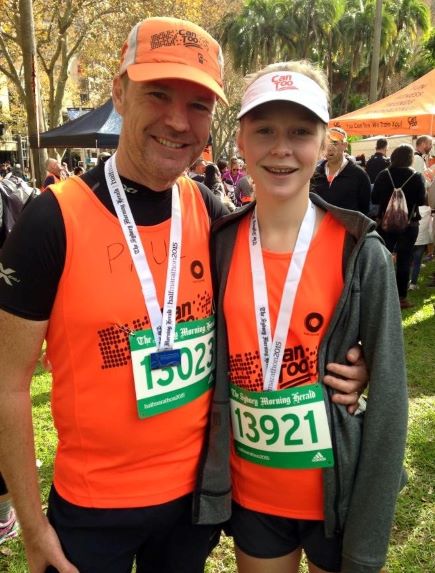 He's grateful that there's more awareness and less stigma today about mental illness, including at his workplace where his boss is supportive that he may need to take time out occasionally to manage his stress levels.
"I feel fortunate to live in this era where people can openly talk about mental health. I wanted to share my story to help others."
"I didn't know I was mentally unwell, I thought everyone felt low and nervous then one day I over reacted to a situation big time, I got really angry and saw that I had a problem."
He contacted Beyond Blue who referred him to a GP that specialises in mental health.
"The doctor was fantastic she opened my eyes. She suggested medication, I'd never taken any before and I thought if I can do anything to fix this, I'll try it.
"Within a fortnight my wife noticed a considerable difference. The Dr explained that depression can be biological or situational and that medication doesn't work for everybody, but it worked well for me."
His physician reinforced the need to do exercise and especially the social side of group exercise.
"I see the Dr every six months and we manage it well. I'll take medication forever, I'm lucky I have no side effects. It has been a good outcome.
"Can Too keeps me on an even keel, along with medication it's how I mange my mental wellbeing."
_________________________________________________________________________________________________________________________________________________
If you or someone you know needs help, talking to a doctor is a good place to start. To find out more, or if they would like to talk to someone else, here are some organisations that can help:
Source: National Health Service (UK) 2016, Get active for mental wellbeing, < viewed: 26.10.18: https://www.nhs.uk/conditions/stress-anxiety-depression/mental-benefits-of-exercise/>