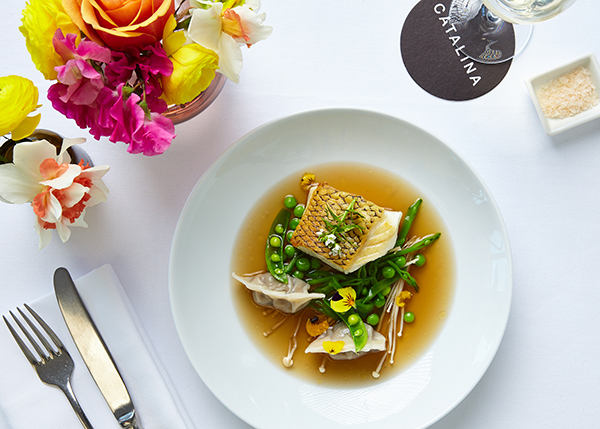 How many times could you say that your evening meal came from an underwater volcanic crevice in the sub-Antarctic ocean that's more than 6,000km away? Where you're guaranteed that great care has been taken to protect the species and its environment which surrounds the most inhospitable island in the world?
The extensive menu of Can Too Foundation's fundraising gala – The Art of Seafood – includes Glacier 51 Toothfish, also known as Patagonian Toothfish. The delicacy is found in the depths of the ocean, 2,000 metres below sea level off Heard Island, where the Fiftyone Glacier at the southern tip pours into the icy waters creating the ideal environment for the prized toothfish.
Seafood was chosen as the theme for this year's gala event as it's delicious and good for your health. The benefits of eating seafood include lowering the risk of heart disease and relieving inflammatory conditions. Higher fish intake is also associated with a decreased risk of breast, rectal and prostate cancer.
This year's menu balances exquisiteness with health, offering a tantalising journey of taste through the best of sustainable Australian seafoods, paired with fine wines. Each item on the menu was carefully chosen by award-winning Laissez-faire Catering using fresh, seasonal produce that is delicious and healthy.
All the seafood has been kindly donated by members of the national peak-body Seafood Industry Australia and all the wines by Fisher Fine Wines to support the investment in Australian cancer research by the Can Too Foundation.
The feast starts with canapes of marinated sardines with horseradish cream; Yamba prawns and roasted scallops on corn tapioca, paired with A Nos Amores French Sparkling wine.
Following is an entrée of Gippsland Co-op school whiting fillets poached with winter puttanesca of cherry tomato medley pine nut, fennel and lemon gremolata, to be paired with 2018 'Joshua Tree' Watervale Riesling, from Clare Valley South Australia.
The main meal is Glacier51 Toothfish served with miso crusted confit globe artichoke, edamame Neptune's beard and samphire bonito broth served with Rockcliffe Third Reef 2017 Pinot Noir. The wine's palate is full with great length with cherry and dark berry flavours, supported by well-integrated fine tannins leading to a long elegant finish.
Rockpool Group Restaurateur and Chef Neil Perry says that he loves working with Glacier 51.
"It is the ultimate fish – supremely delicious, sustainable and Australian."
The seafood's snow-white flesh and broad scalloping flakes display a clean and sweet flavour. The elegant balance of flavour and texture in Glacier 51 Toothfish provides a culinary versatility rare in fish fillets.
Barramundi with braised yellow butter beans, calvo nero, tomato cheeks, shitaki mushroom and sweet basil shoots, is the other main meal to be served with Rockcliffe Third Reef 2017 Chardonnay. The barrel ferment characters add complexity while flavours of citrus and cashew swirl around the palate to give a long flavoursome finish.
The seafood suppliers
Often gale force winds, horizontal snow, ten metre swell and only four hours of light per day illuminates the Toothfish's environment which is where you'll find Australia's most remote Commonwealth-managed fishery.
The fishery is certified sustainable by the Marine Stewardship Council and undergoes rigorous annual stock assessments in collaboration with the Australia Antarctic Division. Vessels are required to conduct research to tag and release thousands of Toothfish to improve information on the biology of this incredible fish. Austral Fisheries, the supplier of Glacier 51, is also certified as carbon neutral.
Tuesday Foods, supplier of the wild salmon pâté, chooses species of the highest quality that are not endangered nor farmed, and Gippsland Co-op school, supplier of the whiting fillets, is managed in an ecologically sustainable way using environmentally responsible practices.
According to Mendolia Seafoods, the supplier of the marinated sardines, the humble fish's health benefits include the prevention of heart diseases, and age-related macular degeneration. They also help strengthen bones, boost the immune system, improve insulin resistance, and rejuvenate the skin. Sardines are one of the best sources of calcium and vitamin D and are packed full of omega-3.
The premium menu also offers vegetarian options of marinated buffalo mozzarella, peas, broad beans, mint and oven dried cherry tomatoes and a medley of sous-vide vegetable, tofu and organic chickpea miso dressing which are both gluten free.
There is also a non-seafood entrée of Wagyu Bresaola, dried tomato, pickled celery root and red sorrel salad, Illawarra plum jam, parmesan crisp and a main meal of Organic corn-fed chicken breast almond crusted, braised yellow butter beans, tomato cheeks and basil, which are both gluten free.
The desserts on offer are a selection of Australian cheese, grapes, lavosh and quince paste.
The world-class fine dining experience will be hosted by entertainer Simon McLachlan of the Australian productions of Jersey Boys and Disney's High School Musical fame who will bring a touch of Broadway to the evening.
Can Too funded cancer researcher Dr James Wilmott will also speak at the event about his work in the treatment for advanced melanoma.
All proceeds from the evening including a silent auction will support Can Too Foundation's work in funding Australian cancer research and prevention.
When: Friday 5 July 630pm
Where: Australian National Maritime Museum, Pyrmont
Prices: $275 single ticket, $2500 Table of 10 and $3250 Corporate Table of 10
Dress code: Louge suit
The silent auction bids are currently open, you can bid here
For more information: www.cantoo.org.au/event/art-of-seafood-2019