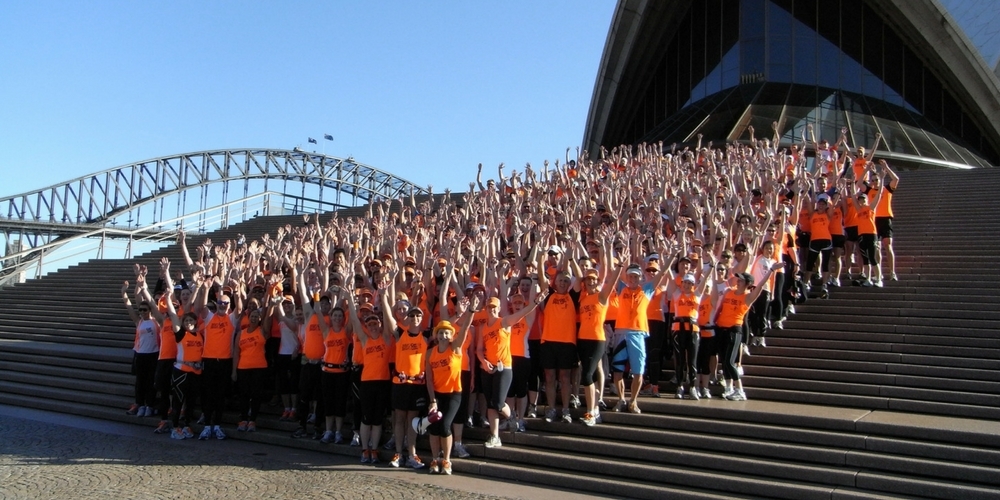 Since Can Too's creation in 2005, the Blackmores Sydney Running Festival and Can Too have had a proud history together.
From humble beginnings, Can Too's inaugural program trained for Blackmores. Annie Crawford, founder & chair of the Can Too Foundation, enlisted 86 people into a professionally coached training program, and in return those participants would help Annie to fundraise for partner Cure Cancer Australia in memory of her late father, who lost the fight with bowel cancer at just 51.
Little did Annie know that this would catalyst of a long lasting friendship with Blackmores Sydney Running Festival that would propel charity fundraising in race events. Raising well above her original target of $50,000, the inaugural Can Too program raised $103, 937 – enough to fund Dr Meagan Hitchens in 2006, whose work focussed on the causes of bowel cancer at the time. Since then the Can Too Foundation has supported for 147 one-year cancer research grants.
Blackmores has been a strong supporter of philanthropic endurance events, raising over $15,500,000 for various charities since their inception. Can Too has been at the forefront and driving this movement, with our participants raising 1/3 of Blackmores Sydney Running Festival's overall charity money, with Can Too the highest charity fundraiser in the running festival.
Since 2005, Can Too has trained over 4,580 participants just like you for the Blackmores Bridge Run (now a certified 10km course in 2017!), the Blackmores Half Marathon, and the Blackmores Sydney Marathon (starting next week!).
Presenting a rare opportunity to run down the middle of one of Australia's greatest landmark, the Sydney Harbour Bridge, and finish at the iconic Opera House, the Blackmores Sydney Running Festival is a truly unique experience for any runner. Exciting changes see the marathon and half marathon flatter, faster and even more beautiful and the introduction of a 10km race standard!
At Can Too, we're proud to be the largest group entered in the Blackmores Sydney Running Festival that runs and trains together, with our recovery village attracting over 14,000 people over the years.
For the community, for the cause and for the challenge – there's a reason why people keep coming back. Pip Bell, who trained with the inaugural Can Too Pod in the east is a Can Too-er who can't stop, and had this to say about why she keeps coming back:
"A couple of factors. I know I haven't got the discipline or the natural ability to do it on my own. I knew I would meet great people who all have the same goal as me, and all have interesting and individual reasons for doing this together. You don't get this kind of camaraderie everywhere; it's pretty unique to find like-minded people training together, supporting each other, and doing it for a great cause.
"To this day, I still love the Blackmores Bridge Run. Where else do you get the opportunity run down the middle of the Harbour Bridge, down through Mrs Macquarie's Chair, and finish in a spectacular location like the steps of the Opera House with the electricity of the cheering crowd you along as you come in? The Bridge Run 10km is a great distance for new runners. It's a long way, but it's genuinely achievable. I loved it – it's still the best run in Sydney."
How Far Will You Go To Fight Cancer?