Get A "Helper's High"
We're a supportive and inclusive community who believe everyone can make a difference to cancer outcomes in Australia just by getting involved. Anyone can be a volunteer and you don't need any special skills – just a positive attitude! We are always looking for amazing volunteers to help out in the following areas.
Event days e.g. Blackmores Sydney Running Festival;
Energy Champions to support participants on long runs; and
Office volunteers.
What are the benefits of volunteering?
Volunteering is a fantastic way to broaden your skill set, build up valuable work experience and become a part of an inclusive and supportive community.
Volunteers can bring invaluable professional experience by donating their time and talents to a cause and whatever the motivation is, everyone volunteering brings something different to the Can Too community.
Whether you're young or old, working full time or between jobs; volunteering is a fantastic way to make a real contribution to charities like Can Too who are making a real difference to cancer research in Australia.
How much time do I have to give?
Can Too have a range of volunteering opportunities available. From giving a couple of hours on Event Days to committing to a longer-term placement – there are options to suit everyone!
To adhere to Volunteering Australia's national standards, volunteer roles generally do not exceed 16 hours per week.
What skills and experience do I need?
Every volunteer brings something different to the Can Too Community, but you are not required to have any experience or specific skills – just a positive attitude!
We provide all the training and information you will need to ensure you enjoy your time volunteering with the Can Too Foundation.
Other Ways to Get Involved
Our Leadership Program
Participants become leaders in the Can Too community to help deliver the vision and mission of Can Too on the ground and support participants in programs.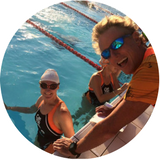 Coach for Can Too
Can Too are always on the lookout for amazing coaches to guide our participants through life-changing physical experiences. Do you have what it takes to be a Can Too Coach?