Register your interest in our next program here
Training suitable for all levels.
From beginner runners to seasoned half marathoners, Can Too's structured training programs are led by qualified coaches to help you achieve your goals.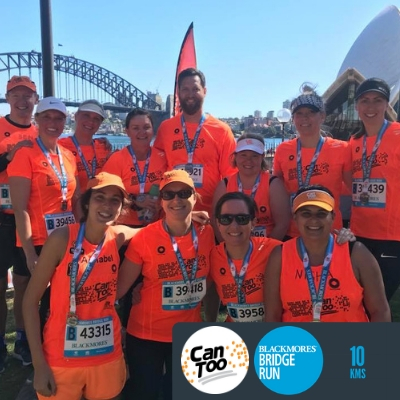 10km Run Training
Registrations close Sunday 11 July @ midnight
15 Jun - 19 Sep 2021
14 weeks training
Two sessions per week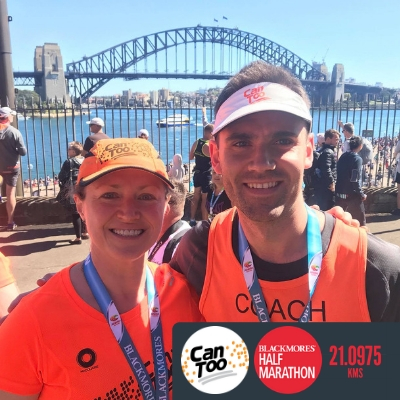 Half Marathon Training
Registrations close Sunday 27 June @ midnight
15 Jun - 19 Sep 2021
14 weeks training
Two sessions per week
Can Too conquers the Blackmores Sydney Running Festival
My journey to become a Half Marathoner with Can Too by Bruno

First-Timer Guarantee
If this is your first Can Too registration, and you attend four of the first six sessions but don't enjoy it, we'll refund 100% of your registration fee. No questions asked.

Simple Refunds Policy
You'll get a 100% refund on your registration if cancelling 2+ weeks before training starts. You'll get 50% refunded if cancelling the week before training. After that, we're committed.

Generous Refer-A-Friend
For every first-time Can Tooer who puts your name down when they sign up, we'll reward you with 25% OFF your fundraising. Some conditions apply.
Our Impact Since 2005
17,000+
Participants Trained
$24,000,000+
Fundraised
188
Researchers Funded
11
Research Breakthroughs
Linda Hughes, Northern Beaches
"I was searching for a group to run with, after running five or six kms a week I wasn't progressing. I didn't think I could do long runs on my own so I found Can Too and I'm really happy I did, it was meant to be. Because cancer has been popping up everywhere, my whole family is suffering from it and a lot of my extended family has had it as well. So to be able to give back with fundraising and supporting such a good cause, that's what I'm doing it for."
Cathy Duloy, Mac Uni
"I think of my cancer treatment as like doing an endurance event, like a half marathon, you take one step at a time and eventually you'll get there and you might be suffering while you're doing it, but you'll get thought it. It's a huge shock, your world changes straight away. Looking back, I don't know if I would have got through that period without my Can Too friends and also the fitness that I had going into it; it really helped. Can Too really means so much to me because of that support."
Bruno Giunta, Sydney Olympic Park
"It was hard at times but I made it. At one point it felt like I wasn't going to finish. But I just kept going and my Coach helped me out and got me to the finish line. Having the structure, the accountability week by week, that training, that feedback from the Coach really mentally and physically prepared me for the Half Marathon. Without the training program I wouldn't have been able to do it. It feels fantastic to achieve my goal."
See Bruno's journey to achieve his half marathon goal with Can Too