directions_run directions_walk
Learn How To Run Properly
... and help us beat cancer.
Connect with your community and join Can Too, official training partner for RunWest, the new Western Sydney running festival.
Train twice per week in a 10 week program preparing runners and walkers for RunWest 12km Fun Run 2019.
We're big on support, which is why we:
Employ qualified and experienced half marathon coaches
Recruit volunteer leaders dedicated to your local group
Work hard behind the scenes to make your experience SO good you'll want to tell everybody about it!
If you're concerned about your ability, please contact us, we'd love to help you set a suitable goal.
Registration fee increases to $160 ($8/session) on Mon 14 Jan 2019. Save $20 With Earlybird.
Mid-week/interval sessions.
Typically 60min training:
Learn how to run more efficiently
Learn proper breathing techniques
Improve core strength
Learn about injury prevention
Hear from guest speakers
Weekend/distance runs.
Starting 25min run/walk (max 3km):
Build endurance
Improve mental focus
Work on pacing and race strategy
Focus on running form
Find local training.
Find local training.
No Risk, Massive Rewards.
We stand by the quality of our experiences. If this is the first time you've signed up for Can Too, and you give us a fair go (by attending four of the first six sessions) and genuinely don't enjoy it — we'll refund your registration fee.
$200


Coaching

We pay qualified running coaches.

$80


Venue Fees

We pay athletics venue hire costs.

$60


Race Entry

Save up to $30 with Can Too.

$30


Online Yoga

Provided by YOGAHOLICS.

$TBC
Zoo Entry

Includes entry to Sydney Zoo.

$ PRICELESS


Warm / Fuzzies

We can't price a life-changing experience.
We Provide Tools & Support
... so you can make a difference.
Team Capt.

There for advice, support, and encouragement.

Mentors

Past fundraisers recruited to support you.

Community

Local advice from fellow fundraisers.

Advice

Practical how-to's learning from our best fundraisers.

Templates

Easy-to-use templates help you seek support.

Staff

We're all active Can Too fundraisers, just like you.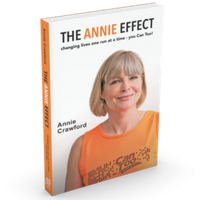 'The Annie Effect'
Can Too Founder Annie Crawford's Memoir.
In this intensely personal memoir, Can Too founder Annie Crawford AM tells her own life story and how her experiences and beliefs led her to a life that gave her a sense of purpose, turning her love of running into an organisation that's transformed thousands of lives.
40% Off When Registering.
We RunWest Fun Run
... and you will too!
Welcome to the inaugural RunWest – Western Sydney's largest community festival. What makes RunWest different? They are committed to putting the FUN into WALKING & RUNNING -- which makes them perfect for a Can Too training program.
Join in for the 12km Fun Run and take in all of the on-course entertainment and cultural activations, meet and greet your favourite sports stars, and be part of the MASSIVE finish line festival at WestHQ. The 12km Fun Run starts at the Sydney Motorsport Park, runs through the new Sydney Zoo – how cool! - and through Western Sydney Parklands, finishing at WestHQ. Registration includes RunWest race entry and a free pass to the new Sydney Zoo, valid for 90 days after RunWest.
Question? Let's chat.
All our staff are regulars in our programs. We all started as beginners, faced the same challenges as you, and are here to share our experiences and advice.