This program is now waitlist only. Request a space.
Minimum Experience
required to join this program.
pool

=

50m

Pool swimming

freestyle / no stopping.
waves

=

Ocean swimming

none required to start.
$180 Rego = $395 Value
Super-Earlybird ($160) ended.
Earlybird ($180) ended.
Standard ($200) from Mon 11 Feb.
$200


Coaching

No extra fees for qualified coaching.

$88


Pool Entry

No extra fees for pool entry.

$60


Swimmers

No extra fees for swimming costumes.

$30


Online Yoga

No extra fees for follow-at-home yoga.

$17


Fisiocrem

No extra fees for Fisiocrem.

$ Priceless


Warm / Fuzzies

We can't price a life-changing experience.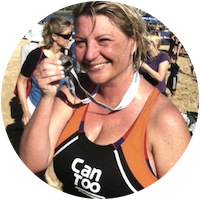 "

You don't have to be fit, you don't have to be fast, and you certainly don't have to be brave — I wasn't! And if it helps create a world where no one needs to get cancer like I did, then that's worth it, don't you think?

— Samantha Guthrie, Can Too Ocean Swimmer & Cancer Survivor
Our First-Timer Guarantee.
If this is the first time you've signed up for Can Too, and you give us a fair go (by attending four of the first six sessions) and genuinely don't enjoy it — we'll refund your registration fee.
Train With Purpose
... for a cancer-free future.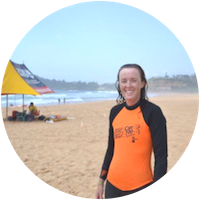 "

Cancer took my aunty while she was surrounded by us all, my newborn Heidi tucked gently into her arms where we knew she would have spent so much more time if it weren't for cancer robbing them both of that joy. Aunty Ree told me it's important not to be angry about her cancer but to be brave. I promised her that I would make a difference, I knew I had to join Can Too.

— Lyndal Keith, Can Too Ocean Swimmer
Our Impact Since 2005
15,000+
Participants Trained
$20,000,000+
Fundraised
158
Cancer Research Grants
11
Research Breakthroughs
We Cooly Classic Ocean Swim
... and you will too!
The Cooly Classic is a rare opportunity to swim a course with some of Australia's most revered surf breaks as your backdrop – Snapper Rocks, Coolangatta and Kirra.
In 2019, the Cooly Classic celebrates it's 10th birthday!
The Cooly 1000 is a 1.0km short course option from Coolangatta to Kirra Beach. This is a perfect introduction for less experienced ocean swimmers and retains the popular point-to-point format.
The Cooly Classic 2.0 is without doubt the main event and always attracts a big crowd. Starting at the popular Snapper Rocks surf break, the course follows the coast north passing Rainbow Bay, Greenmount and Coolangatta enroute to the finish at legendary Kirra Beach.
Can Too Cooly Classic Ocean Swim trains for both the 1km and the 2km distances.
Question? Let's chat.
All our staff are regulars in our programs. We all started as beginners, faced the same challenges as you, and are here to share our experiences and advice.