pool
Find Your Coogee Courage
... and help us beat cancer.
This 9 week intensive is designed to prepare ocean swimmers with some experience for the Coogee Island Challenge 2.4km Ocean Swim!
Twice per week you'll be supported by qualified and experienced swimming coaches. In addition, all ocean training sessions are supported by certified water safety crew from the local surf clubs where we train.
As this is an intensive training program you must be able to swim 1km comfortably in a pool and have completed a 1km ocean swim race (or above) in the last 18 months.
If you have questions, please contact us, we'd love to chat to you.
Mid-week/pool sessions.
These sessions focus on:
Reinforcing efficient swimming techniques
Building swim endurance and speed
Practicing ocean swim techniques
Improving stroke correction
Saturdays/ocean sessions.
These sessions focus on:
Identifying changing ocean conditions – waves, rips, tides, sand banks, etc
Reinforcing how to enter and exit the water safely
Increasing your swim distance in the ocean under supervision
Applying advanced surf skills and using the ocean to your advantage
— Locations —
Bondi Beach
Minimum Experience
required to join this program.
pool

=

1km

Pool swimming

without stopping.
waves

=

1km

Ocean swimming

race completed.
$270


Coaching

We employ experienced swim coaches.

$63


Pool Fees

We pay your pool entry fees.

$60


Swimmers

We provide swimming costumes.

$15


Online Yoga

YOGAHOLICS provide follow-at-home videos.

$17


Fisiocrem

Cream for relief of aches and pains.

$ Priceless


Warm / Fuzzies

We can't price a life-changing experience.
First-Timer Guarantee.
If this is the first time you've signed up for Can Too, and you give us a fair go (by attending four of the first six sessions) and genuinely don't enjoy it — we'll refund your registration fee.
We Provide Tools & Support
... so you can make a difference.
Team Capt.

There for advice, support, and encouragement.

Mentors

Past fundraisers recruited to support you.

Community

Local advice from fellow fundraisers.

Advice

Practical how-to's learning from our best fundraisers.

Templates

Easy-to-use templates help you seek support.

Staff

We're all active Can Too fundraisers, just like you.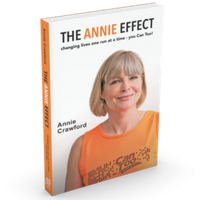 'The Annie Effect'
Special offer — 40% off when registering.
In this intensely personal memoir, Can Too founder Annie Crawford AM tells her own life story and how her experiences and beliefs led her to a life that gave her a sense of purpose, turning her love of running into an organisation that's transformed thousands of lives.
100% of profits support cancer prevention.
We Coogee Island Challenge
... and you will too!
For over 15 years the Coogee Island Challenge has launched the ocean swimming season in Sydney and this season we will also be closing the season. The Coogee Island Challenge continues to increase in popularity with entrant numbers increasing steadily since the swim's creation.
Coogee Bay is protected by headlands to the south and north and also by Wedding Cake Island that sits offshore. Conditions are fairly calm; Coogee is not known for currents, rips or difficult surf. But don't relax too much, previous competitors have been know to find the ride around Wedding Cake Island a little choppy and challenging.
Question? Let's chat.
All our staff are regulars in our programs. We all started as beginners, faced the same challenges as you, and are here to share our experiences and advice.