Training Information
This is a structured 20 week fitness education program preparing runners for Blackmores Sydney Marathon 2018.
Train in a supportive group environment while fundraising for Aussie cancer research and prevention.
Mid-week skills sessions are typically 90mins. You will:
Learn how to run more efficiently
Learn proper breathing techniques
Improve core strength
Learn about injury prevention
Hear from guest speakers
Saturday long run/walks range from 60min-250min. You will:
Build endurance
Improve mental focus
Work on pacing and race strategy
Focus on running form
We're big on support, which is why we employ qualified and experienced coaches, and recruit volunteer leaders dedicated to each local group - training alongside you from your first run to race day.
Check out a full list of inclusions under our FAQ's.
About Blackmores Marathon
Run one of the world's most scenic marathon courses, taking in some of Sydney's most spectacular and historic landmarks including the Harbour Bridge and Opera House.
Be a part of a team of hundreds takeing on Blackmores to fund cancer research, and celebrate your race goals with friends and family at the Can Too marquee overlooking Circular Quay.
We've helped nearly 10,000 runners just like you. Get the support you need to cross the line — smiling, strong, and injury free!
Questions we get asked most ...
There is a $220 registration fee (non-refundable) to join our Blackmores Sydney Marathon program.
You commit to fundraise at least $2,200 for the Can Too Foundation. As a registered Aussie charity our mission is to invest in breakthrough cancer research projects like A/Prof Phoebe Phillips. Our community is passionate about making a difference, and there's no option to train with the Can Too Foundation unless you're willing to fundraise.
You will also be responsible for:
entry into the Blackmores Sydney Marathon ($140 - $160) including any costs getting to/from the event.
entry into a local 'practice race'. This is usually around $50 and totally optional.
The $220 registration fee (non-refundable) helps cover organising 20 weeks of group training. This includes things like:
Support from a paid, qualified coach
Guest speakers from our network of allied health professionals
Entry fees to your training venue
Branded team training and race tops
Your registration does not include race entry.
As a health promotion charity, we invest a lot in supporting you to achieve your goals over the 20 weeks leading into Blackmores Sydney Marathon. It's how we've fundraised nearly $20 million and invested in 156 cancer research projects since being founded in 2005.
You don't need to be able to run a marathon, to start training for a marathon. 
Blackmores Sydney Marathon is a structured training program that uses qualified and experienced coaches in small group environments.
Our first session is an 8km run/walk, so ideally you've completed at least one half marathon in the past.
Check the run schedule as an example of marathon training.
If you're at all concerned, please contact us.
WE ALSO TRAIN FOR:
Since becoming a registered Aussie charity in 2014 we've invested:
80% of your fundraising in cancer research
20% of your fundraising in cancer prevention / health promotion.
We have spent 100% of your fundraising on Can Too's charitable purposes.
Full financials are submitted to the Australian Charities & Not-for-Profit's Commission (ACNC) and is available in our annual report.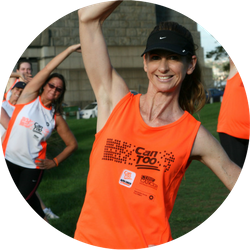 Question? Let's chat.
All our staff are regulars in our programs. We all started as beginners and faced the same challenges as you.
We love sharing our experiences and providing a little encouragement where needed.
If we can ... You Can Too!