Earlybird + Giveaway Ended
Coach
Qualified, experienced and insured
Encouraging and understanding
Always there to support you
Team Captain
Experienced runner and fundraiser
Your 'go to' for local questions
Understanding, empathetic and inclusive
Mentors
Knows what it's like to be a 'newbie'
Friendly, patient and understanding
Always looking out for you
$149 Sign Up = $460+ Value
Super Earlybird ($89) ends 12 May.
Giveaway + Earlybird ($119) ends 5 July.
Standard ($149) from midday 5 July.
$75


Race Entry

Race entry now included in your registration!

$240


Coaching

No extra fees for twice weekly group training.

$60


Venue Fees

No extra fees for entry into training venues.

$60


Merchandise

No extra fees for training & race tops.

$25


Online Yoga

No extra fees for follow-at-home videos.

$$$


Transformation

What's a life-changing experience worth?

First-Timer Guarantee
If this is your first Can Too registration, and you attend four of the first six sessions but don't enjoy it, we'll refund 100% of your registration fee. No questions asked.

Simple Refunds Policy
You'll get a 100% refund on your registration if cancelling 2+ weeks before training starts. You'll get 50% refunded if cancelling the week before training. After that, we're committed.

Generous Refer-A-Friend
For every first-time Can Tooer who puts your name down when they sign up, we'll reward you with 25% OFF your fundraising. Some conditions apply.
Join 15,000+ Participants
... in creating a cancer-free future.
Our programs are 50% training and 50% fundraising.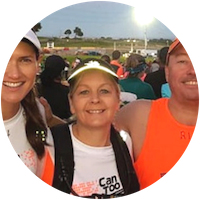 "
Linda Hughes, Northern Beaches
I Can Too because my whole family has cancer, I'm out here running for them. I was searching for a group to run with, after running five or six kms a week I wasn't progressing. I didn't think I could do long runs on my own so I found Can Too and I'm really happy I did, it was meant to be. Because cancer has been popping up everywhere, my whole family is suffering from it and a lot of my extended family has had it as well. So to be able to give back with fundraising and supporting such a good cause, that's what I'm doing it for.
"
Cathy Duloy, Mac Uni
I think of my cancer treatment as like doing an endurance event, like a half marathon, you take one step at a time and eventually you'll get there and you might be suffering while you're doing it, but you'll get thought it. It's a huge shock, your world changes straight away. Looking back, I don't know if I would have got through that period without my Can Too friends and also the fitness that I had going into it; it really helped. Can Too really means so much to me because of that support."
Our Impact Since 2005
15,000+
Participants Trained
$21,000,000+
Fundraised
168
Researchers Funded
11
Research Breakthroughs
We Blackmores 10km Bridge Run
... and you will too!
In our 15th season training for Blackmores 10km we know it's the little things that matter.
We bring all our groups together for a pre-race briefing, warm up with a coach, toilet stop, and head off to the start line together – together.
All our runners can access on-course support by your support crew – from start to finish.
Hundreds of runners and spectators will cheer "Go Can Too!" to others in orange. It's going to be a huge boost in tough times.
As you're cheered down the home straight to the finish line, smiling for the cameras, you're going to feel like an Olympian. And you're going to deserve it.
Within seconds of finishing, it'll get emotional, probably lots of hugs, as your family and friends celebrate with you at the exclusive Can Too hospitality area.
Remember: you will be a Blackmores 10km Bridge Runner!!! Your achievements are going to inspire others to get involved and give those affected by cancer a better chance to beat it.
Be more than a part of the crowd, be a part of something bigger than running.
Question? Let's chat.
All our staff are regulars in our programs. We all started as beginners, faced the same challenges as you, and are here to share our experiences and advice.
TERMS & CONDITIONS
Can Too Blackmores 10km Bridge Run 2019 Competition
ELIGIBILITY
Entry is open to participants registered in the Can Too Blackmores 10km Bridge Run 2019 training program
Employees, immediate family members of employees, employees of any company associated with the Promotion are ineligible to enter
ENTRY
The Promotion commences on 12:00 27/02/2019 and entries close on 11:59 05/07/2019 (promotion period)
To enter, Eligible Entrants must complete a registration, including payment of registration fees, for the Can Too Blackmores 10km Bridge Run 2019 training program during the Promotion Period via

www.cantoo.org.au/event/blackmores-10km-bridge-run-2019
By entering and participating, entrant agrees to hold harmless, defend and indemnify Can Too Foundation and Facebook from and against any and all claims, demands, liability, damages or causes of action (however named or described), losses, costs or expenses, with respect to or arising out of or related to

entrant's participation in the Sweepstake, or
entrant's participation in any Prize related activities, acceptance of a Prize and/or use or misuse of a Prize (including, without limitation, any property loss, damage, personal injury or death caused to any person(s)

This promotion is in no way sponsored, endorsed or administered by, or associated with Facebook, Instagram, Twitter, Google, Blackmores Sydney Running Festival, or Pont3
PRIZES AND WINNING
The random prize draw will take place at 12:00 on 05/07/2019 at Can Too Foundation offices, 100 William St, Woolloomooloo NSW 2011
One winner will be chosen at random by the Can Too Foundation from each training location for the Blackmores 10km Bridge Run. The judges' decision is final and no correspondence will be entered into
Each winner will receive 1 x pair of shoes from Brooks Running
Total Prize pool valued up to $2,750
PRIZE CONDITIONS
Winners will be notified by phone/email within two (2) business days of the draw
If there are any unclaimed or un-awarded prizes a prize draw will be conducted on 01/10/2019 at the same time and place as the original draw. If a winner is drawn they will be contacted by phone and in writing within two (2) business days