Training Information
This is a structured 20 week fitness education program preparing runners for Berlin Marathon 2018.
Train in a supportive group environment while fundraising for Aussie cancer research and prevention.
Mid-week skills sessions are typically 90mins. You will:
Learn how to run more efficiently
Learn proper breathing techniques
Improve core strength
Learn about injury prevention
Hear from guest speakers
Saturday long run/walks range from 60min-250min. You will:
Build endurance
Improve mental focus
Work on pacing and race strategy
Focus on running form
We're big on support, which is why we employ qualified and experienced coaches, and recruit volunteer leaders dedicated to each local group - training alongside you from your first run to race day.
Check out a full list of inclusions under our FAQ's.
Locations
Training for Berlin Marathon 2018.
| | |
| --- | --- |
| Eastern Suburbs | |
| North Shore | |
Alternative Options
Set a goal that's right for you.
| | |
| --- | --- |
| directions_run Blackmores 10km | |
| directions_run Blackmores 21km | |
| directions_run Blackmores 42km | |
| directions_run Trail Run 25km | |
| directions_run 'Run For FREE' | |
About Berlin Marathon
Known for being a flat and fast race, the Berlin Marathon holds the title of most marathon world records set on its course. Racing through Brandenburg Gate and Victory Column, the BMW Berlin Marathon is one of six marathons that make up the Abbott World Marathon Majors.
Experience the most beautiful city in the world with 40,000+ of your "closest" mates with participants from over 107 countries. Beginners and seasoned marathoner alike benefit from the course's flat nature and with a reputation of being the fastest marathon in the world, Berlin is the perfect race to reach that PB or run your first marathon.
We've helped nearly 10,000 runners just like you. Get the support you need to cross the line — smiling, strong, and injury free!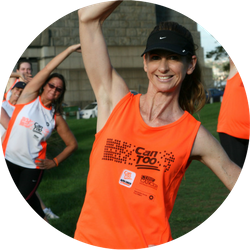 Question? Let's chat.
All our staff are regulars in our programs. We all started as beginners and faced the same challenges as you.
We love sharing our experiences and providing a little encouragement where needed.
If we can ... You Can Too!