pool
Become An Open Water Swimmer
... and help us beat cancer.
This 8 week program is designed for those ready to leave the pool but not not yet ready to take on ocean swim training.
Balmoral Beach is a sheltered location inside Sydney Harbour, which makes it a perfect training location.
As an open water swim there will be some small surface waves. You will not face big crashing waves, you won't be asked to navigate the surf zone, you won't deal with rips, or face other ocean swim conditions.
You will be supported by qualified and experienced swimming coaches. In addition, for all open water sessions at Balmoral Beach, you'll be supported by certified water safety crew.
To join this program, you must be able to swim 50m freestyle (without stopping) in a pool.
If you have questions, please contact us, we'd love to chat to you.
Mid-week/pool sessions.
These sessions focus on:
Reinforcing efficient swimming techniques
Building swim endurance and speed
Practicing open water swim techniques
Drills to improve stroke correction
Saturdays/open water sessions.
These sessions focus on:
Reinforcing how to enter and exit the water safely
Learning open water swimming skills
Increasing your open water swim distance under supervision
— Locations —
Balmoral Beach
Minimum Experience
required to join this program.
pool

=

50m

Pool swimming

without stopping.
waves

=

Open water swimming

none required.
$240


Coaching

No extra charge for qualified coaches.

$56


Pool Fees

We pay your pool entry fees.

$60


Swimmers

We provide swimming costumes.

$15


Online Yoga

YOGAHOLICS provide follow-at-home videos.

$17


Fisiocrem

Cream for relief of aches and pains.

$ Priceless


Warm / Fuzzies

We can't price a life-changing experience.
First-Timer Guarantee.
We stand by the quality of our experiences. If this is the first time you've signed up for Can Too, and you give us a fair go (by attending four of the first six sessions) and genuinely don't enjoy it — we'll refund your registration fee.
We Provide Tools & Support
... so you can make a difference.
Team Capt.

There for advice, support, and encouragement.

Mentors

Past fundraisers recruited to support you.

Community

Local advice from fellow fundraisers.

Advice

Practical how-to's learning from our best fundraisers.

Templates

Easy-to-use templates help you seek support.

Staff

We're all active Can Too fundraisers, just like you.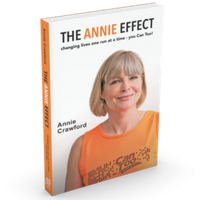 'The Annie Effect'
Special offer — 40% off when registering.
In this intensely personal memoir, Can Too founder Annie Crawford AM tells her own life story and how her experiences and beliefs led her to a life that gave her a sense of purpose, turning her love of running into an organisation that's transformed thousands of lives.
100% of profits support cancer prevention.
We Balmoral Swim
... and you will too!
Perfect for first-time open water swimmers or for seasoned veterans. A great course set around the island at Balmoral Beach. The race is split between males and females and goes off in waves.
This year you can look forward to fun and entertainment for the whole family. There is plenty to choose from entertainment, food, and warm down zones & more. Balmoral Beach also has some great cafes and coffee shops and places to picnic so stay around after the event and enjoy beautiful Balmoral.
Question? Let's chat.
All our staff are regulars in our programs. We all started as beginners, faced the same challenges as you, and are here to share our experiences and advice.