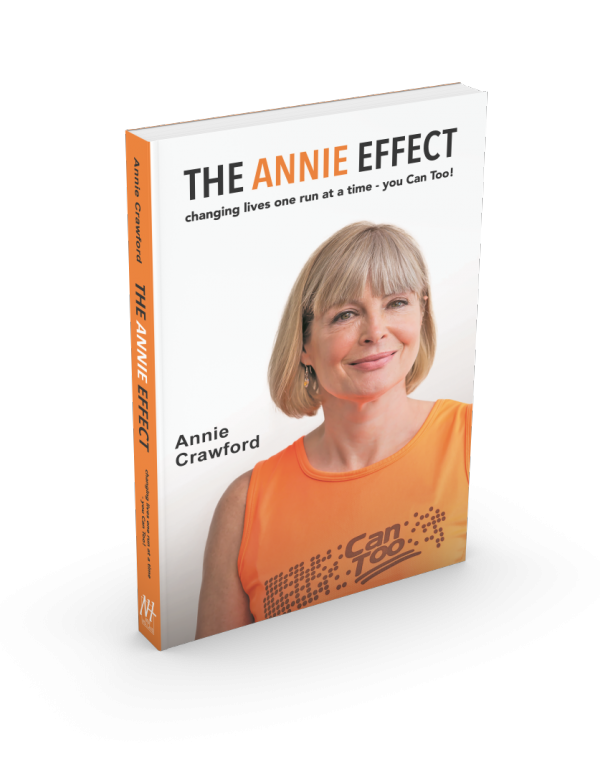 The Annie Effect
Changing Lives One Run At a Time – You Can Too!
by Annie Crawford
Ever thought about running a marathon, doing an ocean swim, training for a triathlon? If you think those things might be beyond you, think again!
In this intensely personal memoir, Annie tells her own life story and how her experiences and beliefs led her to develop a life that gave her a sense of greater purpose. Annie Crawford turned her love of running into an organisation that has changed the lives of thousands of people. Can Too is a non-profit program that has trained over 13,500 people and raised more than $17 million – enough to fund 147 cancer researchers and counting.
She's also learned the joy of giving back through her involvement with other not-for-profit organizations that have enriched her life. If you've never thought you were capable of doing something extraordinary, Annie's story will change your mind. You Can Too!
How To Purchase A Copy of The Annie Effect
Option #1: Register For A Can Too Program
The Annie Effect can be purchased for $29.95 during registration for the SMH Half Marathon and the Great Ocean Road Running Festival programs.
The cost of the book will be added to your final payment, and we'll make sure your purchase gets to your pod at training.
Register for SMH Half MarathonRegister for Great Ocean Road
Option #2: Online Through New Holland Publishers
If you're not training with us this season (or already registered) you can order The Annie Effect direct from New Holland Publishers.
Purchase From New Holland Website
Option #3: Retail Stores
The Annie Effect is available at major retailers including Dymocks, Kmart, and Target. Please contact your local store to check availability.