Essential Fundraising Tools
Can Too is all about encouraging people to set health and fitness goals, as well as a fundraising goal.
When you register for a program we provide you with weekly fundraising tips as well as providing you with fundraising articles and our fundraising booklet.
You will be allocated a mentor who will help you get across the line, in terms of encouragement and advice for your run, and most importantly in relation to your fundraising.
Fundraising = Support
You are asking for money for a really wonderful cause, a cause that may actually help save the lives of the people you are asking for a contribution. Most of us know someone who has had cancer. You may have seen or experienced how life changes with the diagnosis; the fear, the pain, the uncertainty. The strength of the individuals who are affected and the support they get from friends, family, and the wider community inspires and motivates us.
Research saves lives!
Many of us were raised with the notion that talking about money is bad and asking people for it is worse! Take a moment to examine your own beliefs about asking others to contribute money. Do you feel that by asking someone for sponsorship that you are asking them to make a real sacrifice? Do you feel that you are imposing on them, or putting them on the spot? People usually feel good supporting a great cause. Often they wish they were doing what you were doing but are unable to do so. They may even welcome the chance to support you. Do not assume people do not want to help; they may even feel offended that you felt that you could not ask.
Fundraising Backbone
Email Campaign – the backbone of your fundraising!
It's simple: if you don't tell your friends, family and colleagues about your new challenge, how will they know what an amazing thing you are doing? And how can they sponsor you?


Send an email to everyone you know (literally everyone… you may be surprised who comes back to you!) and tell them about your need to take up a challenge, setting yourself a goal to achieve something you thought impossible. You can tell them about your training regime for the next 14 weeks or so, including Saturday mornings when you'll be pounding the pavement or diving into the ocean early in the morning while everyone else is recovering from a hangover or sleeping in! They may not be able to achieve what you are achieving, but they can share in your experience!


Educate yourself about what you are fundraising for and the researchers that have received grants – knowing where the money goes greatly enhances your confidence to talk about the program and your ability to fundraise. There are copies of researcher profiles available for you to access – attached to Can Talk some weeks, the website or ask your Team Captain.


Be creative in your emails. For example, one Can Tooer involved in a run program added up all the kilometres covered in her half marathon training program, which was 380km. She then Googled "380 km from Sydney" and found that Port Macquarie, Tamworth and Forbes were all that distance from Sydney. This put some perspective on what she was undertaking for all her non-trotting supporters.

The key to a successful email campaign is to create your emails to match your personality, sense of humour and style!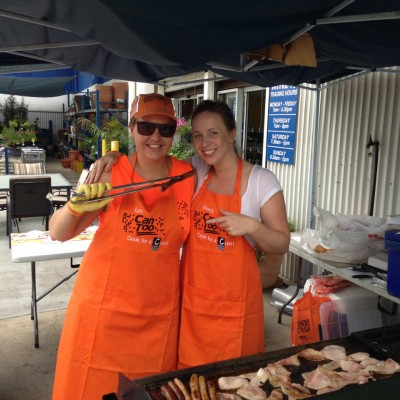 Email examples
Tell everyone what you are doing!

Here are some examples of some initial emails you could send. The more exciting and engaging your emails are, the more your friends and family will want to enjoy the experience with you. And the more they will sponsor you!


Follow up emails!

FOLLOW UP! Don't forget we live in a busy world. People need reminders. Just because theydidn't respond straight away does not mean that they do not want to support you. Maybe they just haven't got around to it, or maybe they even accidentally deleted your email. A few gentle reminders of your training progress and fundraising deadline will greatly assist in raising your funds. You may have to send up to three or more updates of your great progress to your sponsors!


Thank you emails!

After the event let all your family, friends and colleagues know how you went! Share with them your success and the huge feeling of accomplishment you have. This will allow for last minute donors to get their money in and might even encourage friends to come and train alongside you in the next program! One Can Too participant even made a little movie to thank her sponsors!!!


Fundraising Events
Events Can Too Be Easy – become a fundraising participant on one of our fantastic training programs and you'll have access to step by step instructions on holding a fundraising event!