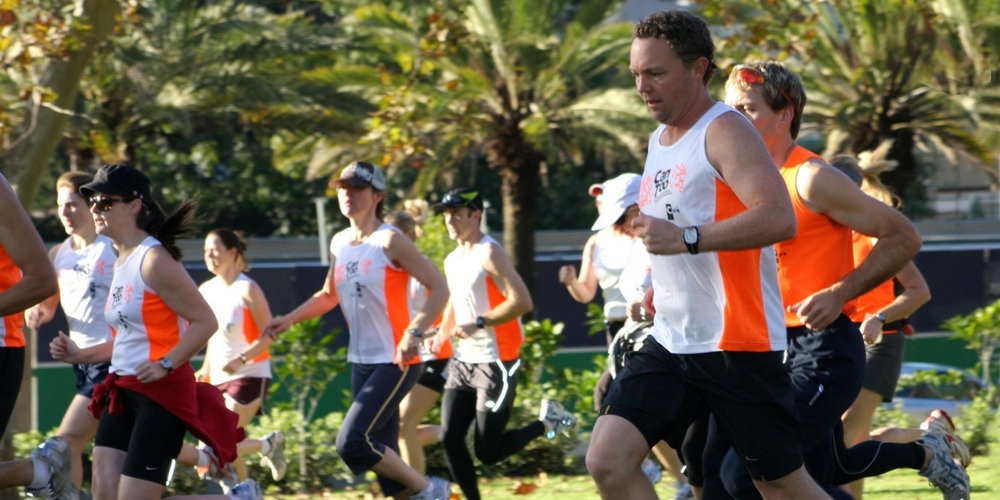 On your first night of training you'll be given a white Can Too running top to wear at training. Once you meet your fundraising commitment you'll be presented with your Can Too Orange race top to wear with pride! The rest of your gear is up to your personal style. To help you get run ready, we've put together a list of running essentials.
Running Shoes
There are many types of sneakers on the market but when it comes to running you want to be wearing sneakers that have been designed to run in.
The average pair of sneakers are only built to sustain approx. 482km's of use — so if your runners are over a year old, chances are you'll need a new pair!
When purchasing a new pair of runners go to a reputable shoe store where they'll put you on a treadmill to identify your unique foots needs.
Get a 15% discount off runners at Running Science
Get 5% off your purchase donated to your Fundraising Page at Pace Athletic Mosman
Running Clothes
Make sure your running clothes are light weight and made from a technical fabric with a good wick absorbancy — don't wear cotton.
Tops
You will be given your Can Too running top on your first night of training.
Pants
There are so many types of running pants — whether you like shorts, fitted leggings or even a running skirt the colour, shape and style is completely up to you — go wild!
Jacket
You may get cold before and after your run, so having a light weight jacket on standby is always recommended.
Socks
Not all socks are equal and when you're running it's important to get a pair of socks that are made from a technical fabric, are form fitting and most importantly aren't made of cotton — cotton socks cause blisters!
Get a 20% discount off all apparel at Brooks Online Store promo code: CANTOO!
---
Get Professionally Coached For Your First Half Marathon!
Can Too employs qualified and experienced running coaches to lead out 14 week half marathon training programs.
Train for SMH Half Marathon (NSW) or the Great Ocean Road Running Festival (VIC/NSW) or Gold Coast Airport Marathon (QLD).
Starts soon, secure your place today!