Can Too Corporate Training
Team training for you organisation's health and wellbeing.
Can Too is excited to expand our program offering to include a customised program for organisations needing a personal and bespoke opportunity.
We can engage employees and organisations and help to achieve health and well being goals with a program designed to better meet the needs of the business community.
Can Too has a proven track record helping over 11,000 participants achieve goals they never thought possible.
The programs deliver:
Improved physical and mental health
Improved connections to the employer and organisation
Improved work/life balance
Benefits of philanthropy
Opportunity to support Cancer Research with cancer affecting 1 in 2 Australians
Fitness Fighting Cancer - get fitter, faster, stronger, fight cancer and fund research
Contact us for more information or keep reading...
"This is such a great wellness initiative. Not only has my personal fitness improved, stress levels reduced (and vitamin D levels up thanks to the winter sunshine), but I've also met some wonderful colleagues for the first time. Networking was not a motivator for signing up for the run, but it sure is a nice by-product! Also, Simone is such an amazing coach, she is just so supportive and encouraging. She has corrected ten years of bad running habits in two weeks!" Macquarie Bank Employee, 9km program
How does it work?
Can Too can design a program for your organisations needs including:
1. Goal Event Training:(minimum number 15 participants)
A group training program
Can Too coach will provide structured training program for event of choice. Eg: a 5km or 10km fun run, corporate challenge event, half marathon
Our professional coaches create a program that is tailored to the fitness level and goals of the people in the group.
Duration of Session: 1 hour, 2 times per week
2. Can Too Health and Fitness Mid-Week: (minimum number 15 participants)
Can Too coach will provide high intensity / interval training / core strength and endurance for one or two sessions per week at a time and place to suit your organisation
The coach will lead a variety of activities each session which will really help people to get fitter and healthier. Each session will have a unique focus and include targeting different muscle groups
Participants can be of varying ability as the coach can tailor the session to meet the different needs of participants in each group.
Duration of Session: 50/60 minutes
10 Weeks
3. Weights/Circuit Session (minimum number 15 participants)
Circuit training is a great way to improve mobility, strength and stamina. The circuit training comprises of 6 to 10 strength exercises that are completed one exercise after another. Each exercise is repeated 6-10 times and the exercises within each circuit are separated by a short rest period. Each circuit is separated by a longer rest period. The number of circuits during a training session is 4-6 depending on the fitness level of the people in the group.
Light weights, skipping ropes and other tools will be used to make the session fun and varied, yet really increasing everyone's fitness.
Duration of Session: 50 minutes
Equipment will be provided by coach
Costs and fundraising commitment is dependent on program duration.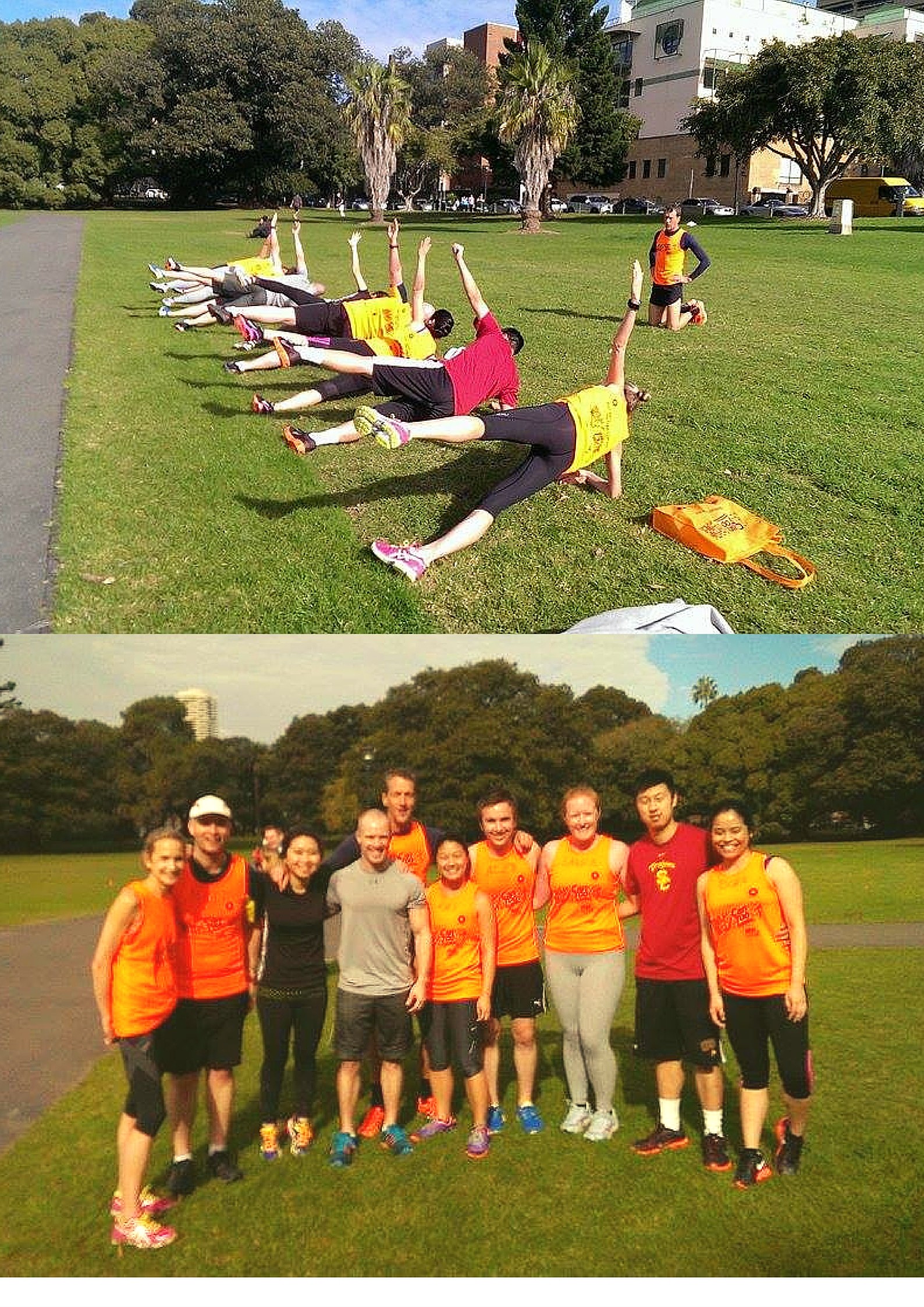 More about Can Too:
The Can Too Foundation is a health promotion foundation that transforms lives through fun, fitness, friends and fundraising. Beginners and experienced people alike are given professional coaching as part of a team to train for marathons, half marathons,10km and 7/14km relay runs; as well as ocean swims and triathlons. In return, participants raise valuable funds that go towards funding cancer research!
Our goals are to create a healthier, happier, fitter community and fund bright, innovative researchers through Cure Cancer and Cancer Council NSW.
The Can Too Foundation funds early career researchers across all cancer areas. The researchers are making great strides. The first researcher the Can Too Foundation funded in 2005, Megan Hitchens has recently discovered the genetic link to bowel cancer. There are many, many other examples of breakthroughs from researchers funded by Can Too.
The Can Too Foundation has changed the lives of 11,000 participants and raised $15.5 M, enough funding for over 135 young Australian Researchers.
Can Too partners with Centurions and corporate partners such as Macquarie Group Foundation, Brooks and Ogilvy PR Health, who work with us to achieve these incredible goals.